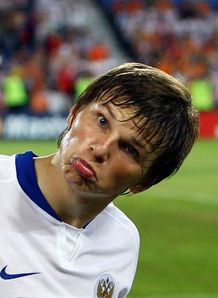 Zenit St Petersburg play maker Andrei Arshavin has today admitted he would like to join either Chelsea or Manchester United. The Russian international looks set to leave Zenit during the transfer window next month and a move to the Premier League looks a real possibility now following the player's comments.

The 27-year old was heavily linked with a move to Tottenham earlier this year, however Spurs failed to meet Zenit's asking price of £20 million so Arshavin stayed with the Russian giants. However the player has now admitted he would love to leave Zenit and join either Chelsea or United.

Arshavin had this to say : "I still have a desire to play abroad and I'd like to play in either Spain or England .... Barcelona are my favourite team and in England there is Manchester United and Chelsea." With Chelsea boss Luis Filipe Scolari currently in the market for a new play maker, Arshavin may well find his way Stamford Bridge come the new year.

The sooner Arshavin comes to the Premier League the better. I have always been a huge fan of his and I think he would be an excellent signing for either United or Chelsea. During the summer I was disappointed Arshavin didn't move to White Hart Lane, however we may not have to wait too much longer to see Arshavin move to England.
0 comments: