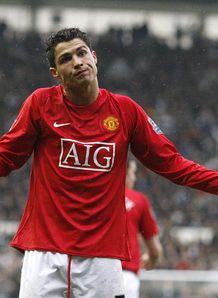 It has been reported in several papers today that Manchester United have agreed in principle to sell Cristiano Ronaldo to Real Madrid once the seasons ends. The Portuguese winger was continuously linked with a move to the Spanish giants during the summer, with an £80 million transfer being touted, however for whatever reasons he remains a United player.

At times it looked as though Ronaldo would join the La Liga side, but in the end Sir Alex Ferguson managed to hold onto his man but how much longer will he be able to keep hold of his prized asset. Well it has today been claimed that United and Real have a gentleman's agreement in place for Ronaldo to leave Old Trafford next summer and move to the Bernabeu.

Real Madrid director Pedro Trapote is quoted in El Mundo today saying : "The deal is already done for the summer ... It's better not say anything now because there are some clauses that prevent us from announcing it. For us it would be the right time, but we shouldn't do it."

For many people, it is a case of when, not if Ronaldo joins Real after the 24-year old openly admitted it has always been his dream to play for the club. As much as I dislike Ronaldo, I feel it would be a shame to lose such a fantastic player. He is undoubtedly the greatest player in the world at this current moment in time and I think United will find it tremendously hard to find a replacement should he leave in the summer. Judging by the picture of Ronaldo, he doesn't know where he'll be next season!
0 comments: