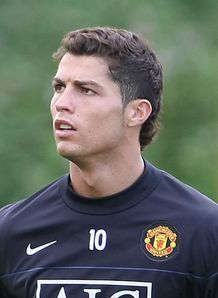 Manchester United's Cristiano Ronaldo has today claimed he was just inches away from joining Premier League rivals Arsenal. The Portuguese winger joined United back in 2003 from Sporting Lisbon and has since gone on the become the best player in the world, however it could of all been so different for him.

Ronaldo, 23, has only recently been crowned the winner of the prestigious Ballon d'Or and is widely regarded as the greatest player in the world. Since joining United Ronaldo has made over 250 appearances for the club, scoring an astonishing 101 goals in the process, however today he has admitted he could of joined one of United's biggest rivals.

Before Ronaldo left Sporting all them years ago, he apparently spoke with Gunners boss Arsene Wenger. He told French magazine France-Football : "I saw Arsene Wenger three times with my mother. I was just an inch away from signing for Arsenal." What a difference one signing can make. Could you imagine if Ronaldo had actually of signed for Arsenal. I don't personally think United would of won the Champions League last season, or even the Premier League.

Now would be a good time to have Ronaldo in your team. Cristiano costs just £8 million in this season's "You the Manager" and personally, I feel that's a bargain. So follow the link below to enter your team to be in with a chance of winning some terrific monthly and weekly prizes.
0 comments: