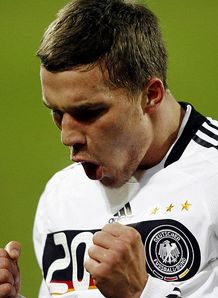 Bayern Munich have today confirmed that Lukas Podolski will remain at the club until at least next summer. The German international has been heavily linked with a move to the Premier League in recent weeks after it was claimed that Bayern would sell the player for £15 million in the January transfer window.

Liverpool, Manchester City and Tottenham are all believed to be interested in Podolski who is widely regarded as one of the best strikers in Europe.

However their hopes of signing the player in January appear to have gone now after Karl-Heinz Rummenigge released this statement : "Lukas will stay at least until summer 2009 - his contract runs up until June 2010. He will certainly spend the second half of the season at Bayern and after that we will see."

This is obviously disappointing news for the three clubs involved. I feel the sooner Podolski comes to England the better because he is top notch. He is only 23 and I think he has a massive future in the game and I am sure he wants to leave the Allianz Arena as soon as possible so he can move on with his career. With January fast approaching, make sure you stay tuned to Football Corner for all the latest news and views of the footballing nature.

0 comments: