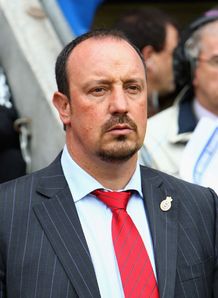 Liverpool manager Rafa Benitez will return to work in the next few days after undergoing surgery. The Spaniard is suffering pain from a kidney stone and was admitted to hospital this morning, where he underwent surgery earlier today.

Coincidentally, Chelsea boss Luis Filipe Scolari was also suffering the same illness at the weekend, however he managed to recover in time to overlook his side's 1-1 draw with West Ham yesterday afternoon. A spokesman for the Merseyside club had this to say : "Rafa was admitted to hospital last night after suffering problems with a kidney stone.

"He will undergo a minor operation this afternoon and is expected to return to work within two or three days. He remains in good spirits and everyone at Liverpool wishes him a very speedy recovery." Football Corner would also like to take the opportunity to wish Benitez a very speedy recovery.
0 comments: