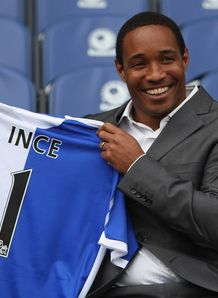 Paul Ince has today been sacked as manager of Blackburn Rovers after the side's shocking start to the Premier League season. The former MK Dons boss arrived at Ewood Park just six months ago and became the first black British manager to manage in the top league in England, however the Rovers board have today started to sack him.

Blackburn Chairman John Williams had this to say : "Three wins in 17 games has seen a squad which finished seventh last season fall to 19th place ... We are currently in danger of becoming detached from the pack."

Early favourites to take over from Ince at Blackburn include Sam Allardyce, Graeme Souness and former Sunderland boss Roy Keane. Personally I am not one bit surprised to see Ince get the sack. I do feel a little sorry for the former Manchester United midfielder, however when a team goes on a run of such poor results it is often the manager who feels the consequences.
0 comments: