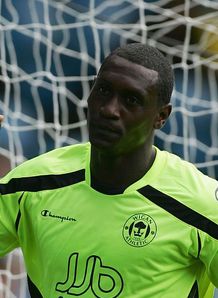 Everton are ready to join Liverpool in the race to sign Wigan Athletic striker Emile Heskey after the Latics chairman confirmed that the club may be forced to sell the player in January. Heskey's contract runs out at the end of the season and Wigan boss Steve Bruce is preparing to cash in on the player to avoid letting him leave on a free next summer.

The England international seems unwilling to sign a new deal at the JJB leaving Wigan no choice but to sell him, but to whom is another question. Everton manager David Moyes is now preparing to enter the market for a new striker after seeing Yakubu sustain a serious knee injury during his side's 1-0 victory away at Tottenham yesterday.

Liverpool boss Rafa Benitez is looking to add to his striking options after watching £20 million summer signing Robbie Keane so far fail to make the grade at Anfield. Heskey, who of course spent four years at Liverpool and is said to be interested in a possible return to the club. Wigan chairman Dave Whelan admitted : "Emile is out of contract in the summer, It could cost us £3m or £4m if that goes on to the summer so we'll have to see what January brings."

The 30-year old has made over 80 appearances for Wigan during his two years at the club, scoring just 15 goals in that time. Heskey could prove to be a decent signing at 3 or 4 million for whoever does eventually sign him. Personally I hope he opts for a move to Goodison Park because he definitley has a better chance of getting a first team place with the Toffees.

The former Birmingham City man costs just £4 million in this season's "You the Manager" and is definitley worth a look. So follow the link below to enter your team to be in with a chance of winning some terrific weekly and monthly prizes.
0 comments: