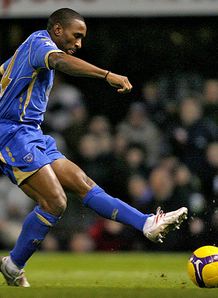 Jermain Defoe's possible £10 million move to Tottenham now appears nailed on after the player was dropped to the bench for Portsmouth's 1-0 defeat against Arsenal this afternoon. The England international has been strongly linked with a move to White Hart Lane in recent days after it was revealed Pompey boss Tony Adams will have to sell in January.

Spurs boss Harry Redknapp is keen to bring Defoe back to North London once the transfer window opens next month as he bids to strengthen his attacking options. The 26-year old only left Spurs last January when then Pompey boss Redknapp signed him for a fee believed to be in the region of £7 million - £9 million.

When asked why he left Defoe on the bench for today's Premier League encounter with Arsenal, Adams claimed it was for tactical reasons. He went on to say : "Jermain was was annoyed and angry - he's had the hump with me ever since and I wouldn't want it any other way to be honest."

I would be very surprised to see Defoe still at Fratton Park when the transfer window closes on February 2nd. I have always been a massive fan of Defoe's and I think, when he is fit, you should start him. Obviously Adams doesn't feel the same way and I feel he will look to cash in on the former West Ham man when the window opens on Thursday.
0 comments: