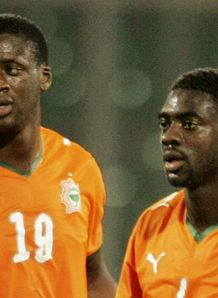 After weeks and months of speculation, Barcelona's Yaya Toure has today admitted he no desire to join Premier League giants Arsenal during the transfer window next month. The Ivorian international had been heavily linked with a move to the Emirates throughout the year, however today he has quashed all rumours of a potential move.

The 25-year old had this to say about a possible move to the Gunners : "I know of Arsenal's interest but I insist I have no desire to seek an exit .... The rumours will not affect my game. My head is with Barcelona. There are no doubts."

This news will come as a bit of a blow to Arene Wenger as he tries to replace his injured captain, Cesc Fabregas. With Toure now definitely not arriving at the club in January, a whole host of other names have already been mentioned. The likes of Andrei Arshavin and Marcos Senna have both been linked with a move to the North London giants in recent weeks as Wenger desperately attempts to bring a new central midfield player to the club.

Personally, I thought Toure would have been a decent signing for Arsenal, however that's not to be. With Wenger admitting yesterday that he intended to spend during the transfer window, it will be very interesting to see who he does bring to the club over the coming weeks. My money would be on Zenit St Petersburg's Andrei Arshavin to arrive at the club.
0 comments: