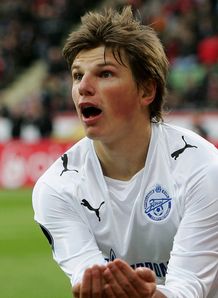 Zenit St Petersburg playmaker Andrei Arshavin now looks set to leave the Russian giants next month after his agent confirmed he will definitely leave in January. This news will come as a massive boost to Arsenal, Tottenham and Chelsea, who are all keen to sign the player once the transfer window opens.

The 27-year old has been heavily linked with a move to the Premier League over the past few months after Tottenham narrowly missed out on his signature during the summer. It was believed that Spurs were extremly close to signing the Russian international, however Zenit's demands of £24 million ended any possibility of a deal.

The player's agent, Daniel Lachter has today confirmed that he fully expects Arshavin to leave Zenit this January. Lachter had this to say : "He will definitely move in January or the player and club will lose money .... Zenit and Andrei understand that it is time for them to part from each other."

These comments from Arshavin's agent look very promising. I would love to see Arshavin come to England in January because I feel he would prove a tremendous success in this country. With Arsene Wenger keen to bring another midfielder to the Emirates next month following the news that captain Cesc Fabregas will be out for the next four months, I personally think the Gunners are big favourites to capture Arshavin.

Who do you think Arshavin will join? Place your votes in the poll on the top right of the site.
0 comments: