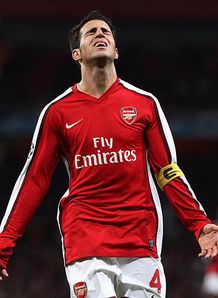 Arsene Wenger has today been rocked by the news that Arsenal captain Cesc Fabregas will be out for four months after injuring knee ligaments in the side's 1-1 draw with Liverpool on Sunday.

The Spanish international limped off just as the half-time whistle blew on Sunday after a collision with international team-mate Xabi Alonso. Both players went for the ball fully committed and unfortunately for Fabregas he came off the worse.

Wenger had this to say : "The news is not good. It will take three to four months, we count four. He will be working hard to come back earlier but I count four months .... We will miss him, of course, but how much is difficult to say. We have to find a way and we want to find a way to compensate the fact that he is not on the pitch to give everyone a bit more. "

With Fabregas now sidelined for the foreseeable future, it means Wenger is short a central midfield player and many names have already been mentioned. One name which has been repeatedly linked with a move to the Emirates is Barcelona's Yaya Toure.

The 25-year old plays in a not too dissimilar role as the one which Fabregas plays for the Gunners week in week out and a January move for him may now become a reality. Earlier this year, the Ivorian international had this to say about a possible move to North London : "I am aware of the interest from the Premier League .... It would be great to play in a big team with my brother."

No matter who Wenger does eventually bring in, I think they will struggle to fill the boots of Fabregas. Personally, I feel Fabregas is irreplaceable. He is without one of the best players in the world at the moment and without him in the Arsenal side, I can see them struggling to even finish in the top four considering the unbelievable form of Aston Villa this campaign. Get well soon Cesc.
0 comments: