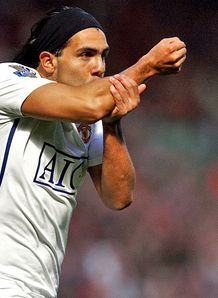 Arsenal have today been linked with an incredible £32 million move for Manchester United striker Carlos Tevez. The Argentine international has struggled this season to keep his place in the United starting eleven due to the arrival of Dimitar Berbatov at Old Trafford earlier this season and a January exit has been touted.

Tevez, 24, has yet to sign permanently for the Premier League Champions and a move to both Manchester City and Real Madrid has been rumoured, however Arsenal boss Arsene Wenger is now ready to join the race.

United have thus far failed to cough up the £32 million needed to make Tevez' move permanent and have just six months left to do so. Should Sir Alex Ferguson decide not to make Tevez' move permanent, that will leave the door open for the likes of Arsenal, City and Real to make a move.

I fully expect Tevez to leave United next summer, however whether or not he moves to the Emirates, I do not know. He has established himself as a firm fan favourite at Old Trafford and I am sure the United faithful would be upset to see him join the Gunners (or even City for that fact). Make sure to stay tuned to Football Corner for all the latest news and views of the footballing nature.
0 comments: