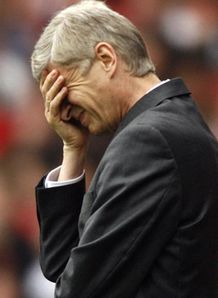 Could Arsene Wenger's time at Arsenal be about to come to an end? The Premier League giants fell to their fifth defeat of the season today when they were beaten 3-0 by Manchester City leaving question marks over the future of Wenger at the club.

The past week or so have been a disaster for the Gunners. Two Premier League defeats against Aston Villa and Man City respectively have seen Wenger's men drop to fourth in the league, ten points behind leaders Liverpool and Chelsea.

The William Gallas situation hasn't helped things at the Emirates and the pressure is really starting to show on Wenger. It doesn't get any easier for Arsenal, they face Chelsea at Stamford Bridge next weekend. So Arsenal fans, what have you got to say on the future of Wenger at the club? Is it time he walked or should he stay on?
0 comments: