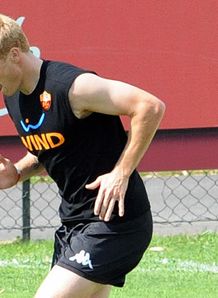 Former Liverpool defender John Arne Riise could be on his way back to the Premier League with Newcastle interested in signing the player. The Roma left-back has found it difficult to settle in the Serie A since his summer move from Anfield and a move back to England could be on the cards.

The Norwegian international has only made six appearances for the Italian giants since joining them and is understood to be growing increasingly frustrated at the lack of first team football. Magpies interim manager Joe Kinnear is keen to add to his defensive options once the January transfer window opens and he has admitted an interest in the 28-year old.

Kinnear revealed: "I have already got my shortlist ready and I will be giving it to Mike [Ashley] ... We need two players in as soon as possible, and I have them in mind. One is with Roma and he is not in the team at the moment. The other is a player who has already scored against us this season ... I know their agents and what they would be is loan deals from January until the end of the season. I already know the player in Rome would cost us £2million to bring over here."

The other player who Kinnear is referring to is Arsenal's Denilson. Riise would be a very decent signing for a side like Newcastle. The Magpies really do need to strengthen their defence is January considering they have already conceded over 20 goals in the league this season. I don't think Newcastle will be alone in wanting to sign Riise because he still is a very good defender.
1 comments: