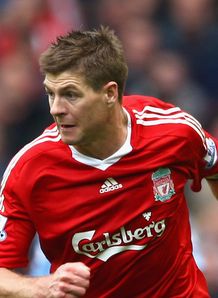 Liverpool midfielder Steven Gerrard has today confirmed his desire to finish his career at the Merseyside club. The England international has spent his whole at the club since he was he was just seven and has since then become one of the world's best midfield players.

The Liverpool captain told the club website : "Hopefully I will sign another one and stay for the remainder of my career ... I don't know what's going to happen over the next 10 years but certainly for the next five or six I hope I'm playing in Liverpool's first team."

"If someone had said 10 years ago that I would go on to be captain and lift the European Cup then I wouldn't have believed them," Gerrard added. "But I've had to work very hard to get to where I am and to win trophies both on a personal level and as part of the team ... I'm very proud to be able to say I have played for the first team for 10 years."

Gerrard, 28, has made over 450 appearances for Liverpool, scoring 102 goals in the process. This is obviously great news for all Liverpool fans. There is no doubt that Gerrard is one the greatest Liverpool players of all time and it would be great to one day say Gerrard manage the club.

Gerrard has been in fine form this season and is a bargain at £8 million in this season's "You the Manager". So follow the link below to enter your team to be in with a chance of winning some terrific monthly and weekly prizes.
0 comments: