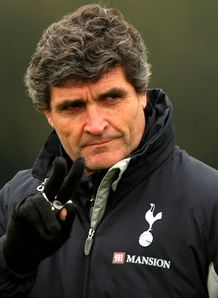 Atletico Madrid directors are preparing a move for under-fire Tottenham manager Juande Ramos to replace Javier Aguirre at the helm of the Spanish giants. Ramos, 54, could be out of a job pretty soon if Spurs fail to improve on their current poor form, with the side currently lying rock bottom of the Premier League.

Atletico are ready to sack Aguirre, who only joined the La Liga side back in 2006, in a bid to persuade Ramos to move to the Vicente Calderon. It has been speculated in recent days and weeks that Ramos is keen to return to his homeland after leading Spurs to their worst start in the league in a century.

Ramos moved to White Hart Lane almost a year to the day from Sevilla and has since gone on to guide Spurs to their first bit of silverware in nine years with the side winning the Carling Cup last season. Although I do feel a little bit sorry for Ramos, considering the way in which the club (Damien Commolli) have gone behind his back in selling and buying players, I think he may be given the boot within weeks and a move to Atletico could be on the cards.
0 comments: