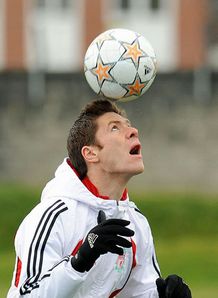 Liverpool midfielder Xabi Alonso has today admitted he may still sign for Serie A side Juventus come the opening of the January transfer window. The Spanish international was heavily linked with a move to Italian giants all summer, however Juve boss Claudio Ranieri last week claimed that he didn't sign Alonso because he was too slow.

Alonso, 26, looked almost certain to leave Anfield during the summer, with Reds boss Rafa Benitez attempting to sign Aston Villa's Gareth Barry. Since then, Alonso has regained his place in the Liverpool starting eleven and a January move away from the Merseyside club looked highly unlikely until today.

The former Real Scoeidad man told Gazzetta dello Sport : "To be honest, for my part, the attraction (to Juventus) has remained intact ... one thing I can say is that I personally appreciated the honesty of the club executives ... they told me their tactics on the pitch were different and that is why they chose Poulsen and not me.
"These are things that happen in football and it's fine. I could have gone but I didn't because, in the end, they chose someone else ... Juventus are Juventus, the most prestigious club in Italy, but you cannot be disappointed when you play for Liverpool." I personally wouldn't like to see Alonso leave England because he is a fantastic player and I feel he still has a lot more to give.

0 comments: