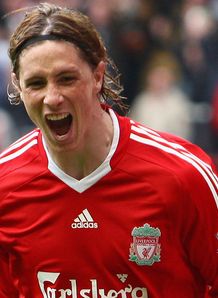 Liverpool could face a fight with Manchester City to hold onto Spanish striker Fernando Torres. It has been reported today that the richest club in the world, Man City, are to offer Torres a massive £200,000 a week contract to try and persuade him to leave Anfield once the January transfer window opens.

It had been speculated that City had bid a massive £50 million bid on the final day of the previous transfer window for Torres, however Reds boss Rafa Benitez denied the speculation and moved quickly to rubbish rumours of a possible January move. The 24-year old has proved a massive hit in the Premier League, scoring an impressive 29 goals in 39 league games for the Merseyside club.

Although City have an abundance of money to spend in January I can't, for one second, see Torres opting to leave Liverpool for Eastlands. There is no doubt he is one of the best players in Europe and why wouldn't the new Arab owners at City want to sign him, however I feel they would be wasting their time trying to sign 'El Nino'.

I don't think City will sign him, but will you? Torres costs just £8 million in this season's "You the Manager" and is certainly worth a look at. Sign-up (below) for your chance to win some terrific weekly and monthly prizes, plus receive 5 teams for the price of 4.
0 comments: