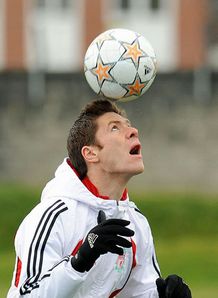 Juventus manager Claudio Ranieri has today given his reasons for not signing Liverpool midfielder Xabi Alonso during the summer. He is too slow. Yes, the Italian manager has admitted he was interested in bringing the Spaniard to Serie A, however he opted out of a possible £16 million move because he is too slow.

Alonso, 26, had been heavily linked with a move away from Anfield in the summer after falling down the pecking order in the Reds midfield behind the likes of Steven Gerrard, Javier Mascherano and Lucas Leiva. He has since won his place back in the starting eleven and has helped the club to their best start in the Premier League for several years.

"He was a player we wanted," admitted Ranieri. "But he is a player, who even though he is an extraordinary man and a great professional, left me perplexed by the slowness of his movement in midfield. "In the midfield of Rafa Benitez's Liverpool, where all of them are little soldiers, he finds himself in a fantastic position.
"But in our midfield, he would have found it hard to support the midfield line seeing as Mauro Camoranesi and Pavel Nedved are not players that come back to give support like Liverpool's wingers." I personally think Alonso is a magnificent player and would be a great signing for many of Europe's top clubs. "Too slow", what are you on about Ranieri?
0 comments: