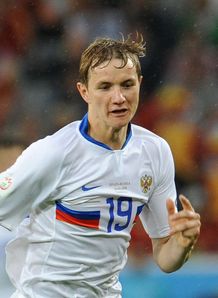 Tottenham have this morning completed the signing of Spartak Moscow striker Roman Pavlyuchenko after weeks of speculation over the player's future. The Russian international has signed a five-year deal at White Hart Lane after the two clubs agreed a £13.8 million fee for the player.

Pavlyuchenko, 26, flew into London on Friday to complete his move to Spurs and thankfullly for him and the club all went well with his medical. This move could now be the catalyst for Dimitar Berbatov's move to Manchester United, however Juande Ramos may want to bring in another striker before the deadline tonight.

Speaking about his move Pavlyuchenko said: "Everything has happened very quickly so I could not even say goodbye to my team-mates," he said. "I could not decide if I wanted to go to England at first - first yes, then no. "The only thing that stopped me from leaving was my family. But now all doubts are behind me and I decided to sign a contract with Tottenham."

The signing of Pavlyuchenko is a terrific one for Spurs. Ok, he's not Arshavin, who the majority of Spurs fans wanted but he is a terrific goalscorer who I am sure will be a massive hit in the Premier League. Make sure to stay tuned to Football Corner all day for all the latest gossip and transfers going through on deadline day.
0 comments: