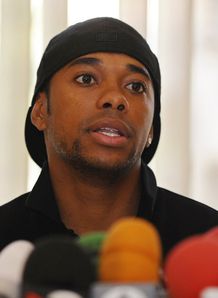 Brazilian striker Robinho appears not to actually know who he has joined. The former Real Madrid frontman signed for Manchester City on Monday is one of the most unexpected transfers in the history of the modern game, but he still hasn't fully realised who he has joined.

Robinho was quoted as saying "On the last day, Chelsea made me a great proposal and I accepted it," but when a reporter replied: "You mean Manchester right?". "Yeah, Manchester, sorry!" answered the 24-year old.

Obviously it may take a while for a big money move like this to set in on such a young player, but I would still fully expect him to know which team he has actually joined. There is no doubt money was a massive factor in this deal and I am sure the player's mind was made up when he say how much City were willing to spend on him, but comments like these don't help.

His move to Eastland (or Middle Eastlands as it is now known) has been met with great excitement amongst the Blues fans but many people in the rest of the footballing world have questioned Robinho's decision to join the Premier League side.

Former Real Madrid and Brazil coach Wanderley Luxemburgo:
"I was quite shocked by the news, ... The media was talking about moving to Chelsea but he finally moved to Manchester City ... If you want to become the best, you need a team with possibilities to shine and I don't think City will achieve that this season ... I don't know if his football or his career will go back at Manchester City."

Valencia striker David Villa:
"I don't want to criticise Robinho because I don't know his situation, but I wouldn't have done it."

Brazilian legend Pele:
"Chelsea are lucky. This is a boy who needs serious counselling. In my view, he has been badly advised."

As a City fan myself, I am obviously chuffed to see the club signing the likes of Robinho, although I will admit I am still very surprised by his decision. Never in a million years did I think a player of the calibre of Robinho would be joining us, but the saying "money talks" applies to a lot of players nowadays and obviously that appears to apply to Robinho.
0 comments: