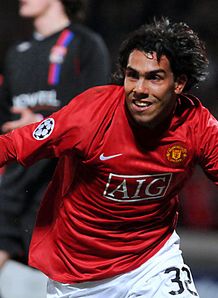 Manchester United may miss out on striker Carlos Tevez, with rivals Manchester City ready to pounce. The Argentine international has yet to sign a permanent deal at Old Trafford and now City's new owners are ready to bid big to land the player. (News of the World)

Tevez, 24, has been a real hit at United since joining from West Ham a year ago. City have been linked with a whole host of strikers since the takeover of the club by foreign investors last month, but they see Tevez as a realistic acquisition with the player still not officially a United player.

Although I would love to see this move happen (because I am a City fan) I just can't. Tevez is a quality player who has been magnificent since coming the to the Premier League a few years back, but I couldn't see him joining City. I would expect the Tevez' permanent move to United to be complete before January.

You can sign Tevez for just £7 million in this season's "You the Manager" (above). Sign-up now for your chance to win some terrific weekly and monthly prizes and hurry, you can also receive 2 teams for the price of 1 if you sign-up now.
0 comments: