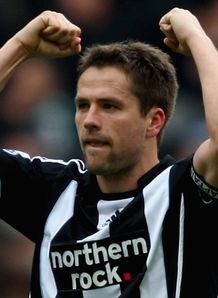 Liverpool and Everton are both preparing moves for Newcastle United striker Michael Owen. The England international has had a torrid time at St James' Park since joining from Real Madrid three years ago but it may be about to end. (News of the World)

Both Rafa Benitez and David Moyes are aware that Owen, 28, could be allowed to leave Newcastle for as little as £4 million come the January transfer window, due to his contract expiring next summer. Owen was linked with a move back to Liverpool a year ago but for whatever reason nothing ever materialised.

I personally think Benitez would be mad not to splash £4 million on the Anfield legend. I know a lot of Liverpool fans would love to see him back at the club after so many years away but could Owen be tempted to join the team he supported as a boy Everton.

Could Owen be the man to win you some dosh? Sign him for just £6.5 million in this season's "You the Manager" (above) and be in with a chance of winning some terrific monthly and weekley prizes. Sign-up now to receive 2 teams for the price of 1.
2 comments:
It's madness not to even consider a player of such quality for just 4 million. Clubs buy flops with 4 million but in Owen you get a class striker who can score even in a crap team like Newcastle.