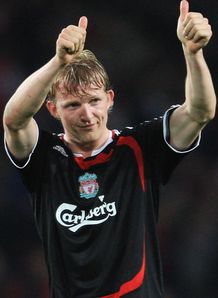 Liverpool striker Dirk Kuyt has today admitted he would love to move to German giants Hamburg and link up with manager Martin Jol. The Dutch international has been linked with a possible move to the Bundesliga side all summer and now it is claimed Kuyt may be interested in a possible move come January. (The Sun)

The former Feyenoord front man has become a vital part of Rafa Benitez' starting eleven in recent months following a difficult first year or two at Anfield. He has made 100 appearances for Liverpool since joining the club in 2006, scoring 26 goals in the process.

If Hamburg were to make a £10 million bid for Kuyt, I personally think that would be a good offer. Kuyt works very hard for the Reds and almost every Liverpool fan would agree with that, however, for me he just doesn't score enough goals and I think Benitez may sell him and try and sign a proven goalscorer.

Will Kuyt be the man to win you some money? Sign the Liverpool striker for just £5.5 million and try and win some terrific monthly and weekly prizes in this season's "You the Manager" (above) and sign-up now to receive two teams for the price of one.
0 comments: