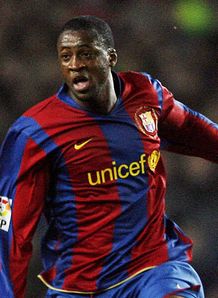 Barcelona midfielder Yaya Toure has today admitted he turned down a move to Premier League giants Arsenal.

The brother of Arsenal defender Kolo has today claimed both Arsene Wenger and his brother were trying to persuade him to move to England and sign for the Gunners but Yaya wasn't interested.

The 25-year old has been at the Camp Nou for two years now since joining from French side AS Monaco.

He was seen by many as a perfect replacement for the former Gunners holding midfield player Matthieu Flamini who joined AC Milan this summer. "Both Wenger and my brother told me in the summer that I should join Arsenal, but I told them that I am very happy at Barcelona," he said on RAC-1 radio.

I personally am a big fan of the Ivorian international. He plays in, what many people call, the Claude Makelele role just in front of the defence and I think he would of been a real hit at the Emirates.
0 comments: