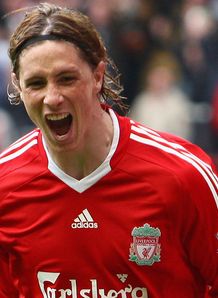 Liverpool have confirmed today that they rejected a £50 million bid for their Spanish striker Fernando Torres on transfer deadline day. The former Atletico Madrid man was subject of a massive bid from the world's newest richest club, Manchester City.

Torres, 24, has been linked with Chelsea also in recent months with rumours claiming that Roman Abramovich was also willing to bid £50 million for the Euro 2008 winner. With City's new owners now willing to bid millions for any player Mark Hughes wants who knows how much they will bid for Torres in January.

Obviously Rafa Benitez will do everything in his power to keep Fernando at Anfield but if City made a ridiculous offer of something like £100 million for the player come the opening of the window in January, how could he refuse. As a City fan myself I must admit I am a bit overwhelmed by the whole thing with the new Arab owners.
0 comments: