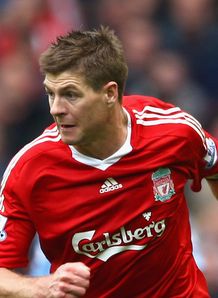 Manchester City have today been linked with a January move for Liverpool captain Steven Gerrard. The England international is understood to be one of City's new number one targets along with Fabregas, Torres, Kaka, Ronaldo, Buffon etc; (News of the World)

Man City boss Mark Hughes will have a whooping £600 million to spend in January, if you are to believe the papers and he has now been linked with almost every player in the world. Gerrard, 28, was heavily linked with a move to Chelsea a few years back, but in the end he opted to stay at Anfield.

It would appear now that the club labelled the "New Chelsea" are ready to spend big on Gerrard but will Benitez be tempted at all if City were to bid £60 million +. As a City fan myself, I am obviously over the moon with everything that is happening at the club, being linked with big names but it is getting a bit ridiculous now, Gerrard will never join us, simple as.

You can sign Gerrard for just £8 million in this year's "You the Manager" so sign up now (below) and receive two teams for the price of one and register your team in time for September's £10,000 manager of the month prize.
0 comments: