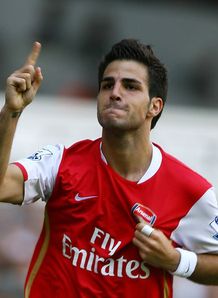 Arsenal midfielder Cesc Fabregas has today confirmed he has absolutely no intention of leaving the club to join Manchester City. The Spanish international is believed to be one of Man City's number one targets after the club was taken over on the final day of the deadline window, but Fabregas is not interested in a possible move.

The 21-year old told the Telegraph: "It would be suicidal for my career at 21 years of age to move to City. It would make no sense." Fabregas has been linked with a whole host of exits from the Emirates over the past 18 months or so with Barcelona and Real Madrid both extremely keen to bring him back to his homeland.

There is no doubt Fabregas is one of the best players in the world and it came as no surprise to hear City's new owners picking him out as a possible acquisition, but frankly it ain't going to happen. As much as I would love it to happen (because I am a City fan) I just can't see it and I think he will have several more happy years at the Gunners.

You can sign the Spaniard for just £7 million in this year's "You the Manager" so sign up now (below) and receive two teams for the price of one and register your team in time for September's £10,000 manager of the month prize.

0 comments: