Liverpool striker Peter Crouch is finally set to leave Anfield after months of speculation about his future. Crouch has been linked with an exit from the club since, pretty much when he arrived back in 2005, with Portsmouth boss Harry Redknapp always said to be keen on the 27-year old England international.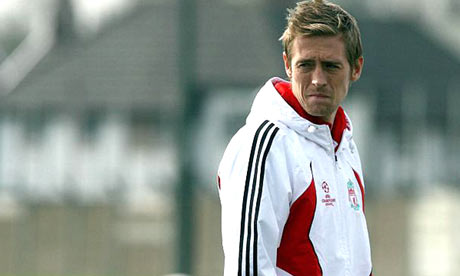 Crouch has only made just over 100 appearances for Liverpool, many of them as a sub, during his three year spell at the club and many Reds fans felt that Rafa Benitez never gave him a fair chance to prove himself. Crouch recently admitted his frustration at sitting on the bench at the Premier League giants and he would be interested in a move away this summer.

A spokesman confirmed on Liverpool's official website: "We have reached a verbal agreement with Portsmouth and have given them permission to speak with Peter." Crouch should and I think will be a terrific signing for Pompey as they embark on their first season in Europe. The height of Crouch and the smallness of Defoe in the attack, what a partnership!
0 comments: