Chelsea midfielder Frank Lampard has today moved even nearer a move to Italian giants Inter Milan after weeks of uncertainty over the players future. Lampard has admitted he is not happy at the current contract offer Chelsea have offered him and he is now keen to link up with former Chelsea boss Jose Mourinho at Inter Milan.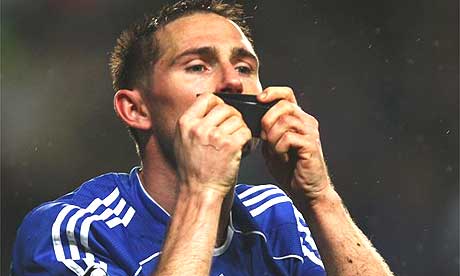 Inter reportedly bid £6.5 million for Lampard last weeks which was rejected, although the Blues may have to accept a bid soon if Lampard persists in rejecting the contract offer. Lampard, 29, has the option of leaving the club next summer on a free if he does not accept a new deal at the club.

New Chelsea boss Luis Phillipe Scolari has already signed a new attacking midfielder in the shape of Barcelona ace Deco for £8 million earlier this month. Many people feel that the signing of Portuguese international Deco all but ensures Lampard's exit from Stamford Bridge this summer and join up with Mourinho at the San Siro.
0 comments: