Liverpool are ready to sell midfielder Xabi Alonso to Arsenal in order to fund a move for Aston Villa midfielder Gareth Barry. Alonso was said to be close to joining Juventus earlier this summer but for whatever reason that move fell through leaving Liverpool with Alonso and without the £16 million on the table from the Italian giants.(Metro)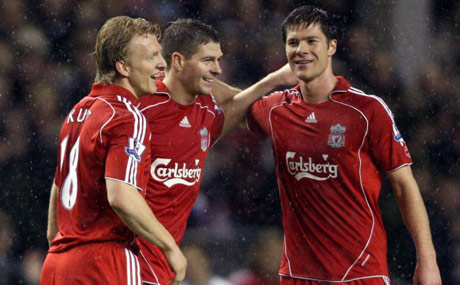 It now appears as though Arsenal boss Arsene Wenger is ready to give Liverpool the £16 million for Alonso to allow Benitez sign Gareth Barry from Villa. Alonso, 26, is more than likely to leave Anfield this summer after more then four years at the club, which produced a Champions League medal for the Spanish international.

If Arsenal were to sign Alonso then Rafa Benitez is alomst certain to spend all that money on England international Gareth Barry. The player has been linked with Liverpool for months now after the 27-year old admitted his interest in joining Liverpool. Villa boss Martin O'Neill has already admitted that his captain is likely to leave the club this summer.
0 comments: