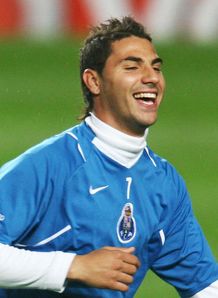 According to reports in today's People, FC Porto attacking midfielder Ricardo Quaresma is a top transfer target of Arsenal boss Arsene Wenger.

The player has been linked with several moves to the Premier League over the past 18 months or so with Liverpool also said to be interested in the Portuguese international.

Quaresma, 24, has been at Porto since joining from La Liga Barcelona back in 2004 and he has been a big hit with the Portuguese giants, scoring over 20 goals in just over 100 games for the club.

Quaresma is a quality player but not worth the rumoured £20 million in my view. Something nearer the £13 million mark sounds reasonable value for the player and I feel he would do a terrific job for the Gunners in the Premier League.
0 comments: