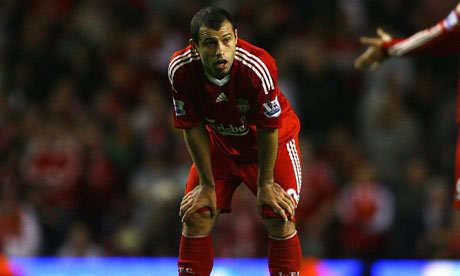 Would Liverpool midfielder Javier Mascherano want to join Barcelona this summer? Well according to his agent, Walter Tamer, he would love to.

The Argentine international has been strongly linked with a move to the Champions League, La Liga and Copa Del Ray winners over the last few weeks and it now looks as though, given the opportunity, Mascherano will move to the Camp Nou.

Tamer had this to say : "It is an honour for Javier that a club like Barca pay such close attention to him, especially after the incredible season they had. I believe that a transfer would be feasible. If Barca really want him, he will sign for them."

Barcelona manager Pep Guardiola is desperate to strengthen his squad over the next two months after seeing close rivals Real Madrid start their summer spending with the £58 million signing of Kaka.

Liverpool boss Rafa Benitez now faces the prospect of starting the 2009/2010 Premier League season without both of his holding midfield players, Mascherano and Xabi Alonso with the latter continuing to be linked with a move to Real. Personally, if I had to chose between the pair, I would pick Alonso any day.

I think it's only a matter of time before bids starting coming in for both Mascherano and Alonso and I feel if Barca were to make a bid of £20 million plus, Benitez may be forced to accept with the club's owners currently in a spot of bother financially.

So Liverpool fans, who would you prefer to keep at Anfield? Comments below please.

4 comments: