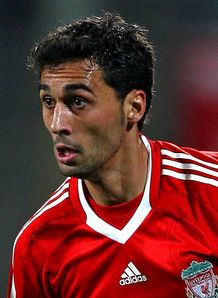 Don't worry Liverpool fans, it's not Xabi Alonso, it's only Alvaro Arbeloa.

Yes, Rafa Benitez has today admitted that the Merseyside club would be willing to sell Arbeloa if a good offer were to come in for him. The Spanish international has only 12 months left on his current contract and Benitez admits he will consider offers for the player.

Speaking to the Liverpool Echo, Benitez had this to say on the matter :

"Alvaro Arbeloa has had a very good season but he has one year left on his contract. If he signs that will be good because we will have more competition, but if we get a good offer we will have to consider it."

Arbeloa, 26, has spent just two and a half years with Liverpool making just under 100 appearances for the club. It is understood that Arbeloa's former club, Real Madrid are monitoring the situation very closely with a bid likely to be made in the coming weeks.

I wouldn't be getting too upset if I was a Liverpool fan right now. With Glen Johnson all but signed, Arbeloa would have struggled to get into the team anyway so I suppose Benitez may as well get a few quid out of him now. It will be interesting to see how much Liverpool will get if they do decide to sell Arbeloa.

What do you think? Comments below please.
0 comments: