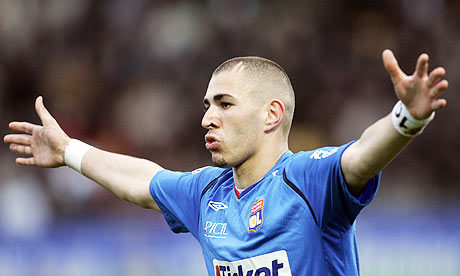 Barely a day has passed since it was announced that Carlos Tevez would not be joining Manchester United on a permanent deal and the Premier League Champions are already looking for a replacement.

One man who may replace Tevez is Lyon striker Karim Benzema.

The French international has already been linked with several of Europe's elite this summer, with Barcelona, Chelsea and Real Madrid all understood to be interested. Despite the fact Benzema, 21, has previously stated his desire to play in Spain, a move to United is still a strong possibility.

With Cristiano Ronaldo now gone from Old Trafford, United can certainly afford to buy Benzema and pay him whatever wages he wants. There is no doubt United need to bring in a big name or two in the coming months and for me, they could do a lot worse than Benzema.

Unlike Tevez, Benzema scores goals on a regular basis. In 149 games with Lyon, he has scored 66 goals which is a very decent return. Also, Benzema is very young and undoubtedly, his best years are ahead of him so, personally, I think Ferguson should move for him as soon as possible.

What do you think? Would Benzema be a good replacement for Tevez? Comments below please.
2 comments:
It's a bit of a gamble to me. No guarantees that he would fit in at United or with the football in the Premier League.