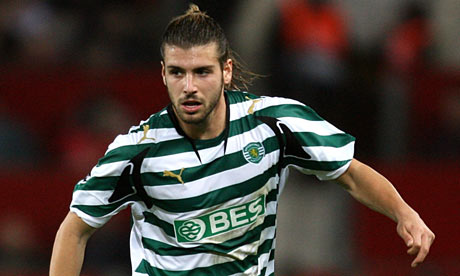 It has been claimed today that Arsenal, Aston Villa, Bolton and Manchester City will all hold talks with Sporting Lisbon midfielder Miguel Veloso.

The Portuguese international has been linked with a move to the Premier League for quite some time now, however for whatever reasons he remains a Sporting player, but that may be about to change.

Veloso, 23, is desperate to join an English club during the summer transfer window and with four clubs now vying for his signature, a move looks a strong possibility. Whoever does eventually sign Veloso will have to cough up at least £12 million and in my opinion, at that price, he would prove great value for money.

He is still quite young, he can play in a variety of different positions and he has Champions League experience. Personally, I think Martin O'Neill should do all he can to convince Veloso to go to Villa Park cause at the moment, he could really use a quality midfield player. Stay tuned to Football Corner for all the latest developments on this and more over the coming days and weeks.

What do you think? Comments below please.
0 comments: