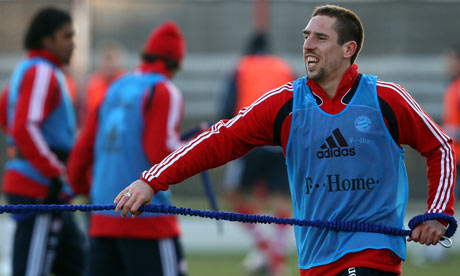 £60 million for Ribery? Come on. It's never going to happen.

One English newspaper has today reported that Manchester United have today made a massive £60 million bid for Bayern Munich midfielder Franck Ribery.

The French playmaker is widely regarded as one of the finest talents in world football and the 26-year old has been strongly linked with a move to Spanish giants Barcelona in recent weeks and months.

No disrespect to Ribery because I think he is an outstanding player, but do you really think Sir Alex Ferguson would spend £60 million on him? The simple answer to that is no.

Ferguson is not stupid with his money. If it is to be that Cristiano Ronaldo leaves Old Trafford in the summer to join Real Madrid for, lets say, £68 million, United won't just go out and spend the same amount of money on someone else. They will buy two or three very good players and then work from there.

Even Ribery's biggest fan would have to admit he is only worth £40 million max. There is no denying he is a world class player and I am sure a lot of United fans would love to see him arrive during the summer, however I find it impossible to believe that Ferguson would spend such a large amount on a single player.

What do you think? Agree or disagree? Comments below please.
0 comments: