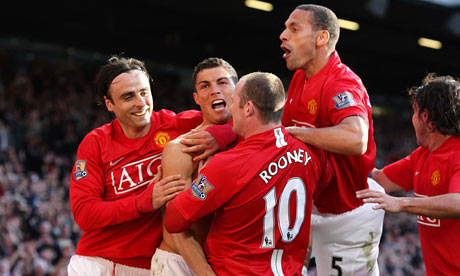 1. Home Form.

It's not a surprise to see that Man United have picked up more points at home than any other team in the league on home soil. Sixteen victories, one draw and just one defeat has seen them pick up an unbelievable 49 points at Old Trafford this campaign and anyone with a bit of sense in the Soccer Betting department, would be foolish to bet against them making it 52 points this Saturday when they face Arsenal.

2. The Tripod.

Edwin Van Der Sar, Nemanja Vidic and Rio Ferdinand. All three players were nominated for this season's PFA Player of the Year award which tells you all you need to know about their seasons.

Just take a look at United's goals against column this season and you'll see why the trio were nominated for the award.

They have conceded just 24 goals in 36 games, four of those goals coming in the 4-1 defeat to Liverpool back in March.

3. Kiko Macheda.

Before the 2008/2009 Premier League season had begun, not many had heard of the man they call "Kiko". It was early April when Federico Macheda first came to the attentions of the millions of United fans around the world. The 18-year old proved to be the match winner twice for United this season.

His goal against Aston Villa completed an unbelievable comeback which saw Sir Alex Ferguson's men come from behind to claim a valuable 3-2 win.

Macheda was at it again when United travelled to the Stadium of Light to face Sunderland just a week later. The Italian scored a late late goal, again to complete a comeback, to maintain United's lead over Liverpool at the top of the table.

Only two goals, but without Macheda this season who knows where the title may have ended up.

4. Refereeing Decisions.

Howard Webb anyone?

The Yorkshire man's decision to award United a penalty at home to Tottenham was, to put it bluntly, a disgrace. Harry Redknapp's Spurs were certainly on the front foot, 2-0 up, when Webb decided to award United a penalty after Heurleho Gomes was adjudged to have fouled Michael Carrick.

Cristiano Ronaldo scored from the spot to start United's comeback.

The decision no doubt changed the game and United went on the win convincingly. 5-2 the final score.

5. Form Against The Bottom 12 Teams.

You may not believe this but United have beaten every single team in the bottom 12 both home and away except for Newcastle this season (and of course Hull City, who they are still to play). That draw came in the opening game of the season when Kevin Keegan was in charge of the Magpies.

They may have been level after the first game of the season but just look at the difference now :

Man United : 86 points .........................Newcastle : 34 points

So that's now United's eleventh Premier League title in the bag and I'm sure quite a few people in Sports Betting will be backing them to make it twelve next season.

0 comments: