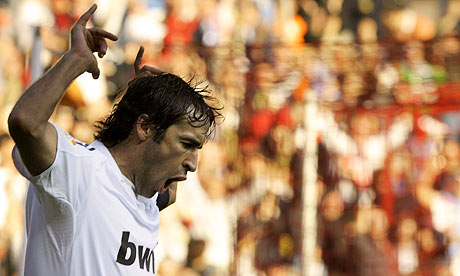 Considered by many as one of the greatest footballers of his time, Raul has today been linked with a move to the richest club in the world Manchester City.

The Real Madrid striker is currently in the form of his life, averaging well over a goal in every other game. The 31-year old has 102 caps for Spain, however that has been the case for quite some time now, after he was dropped by former international boss Luis Aragones.

With Man City set for a summer of massive spending, it comes as no surprise to see a player of Raul's calibre being linked with a move to Eastlands. It was claimed that Mark Hughes, backed by the club's wealthy foreign owners, may make a bid of £35 million for Raul, however Hughes has since denied the claims by saying : "We keep on getting linked with players and that's going to happen every week. I think maybe if you work back from where that story originated, I would suggest it's come from Spain, it's not come from England."

You know what they say, they're is never any smoke without fire and I think that's certainly the case here. Listening to Hughes' comments on the issue, he seems to shy away from answering the actual question being asked. OK, City are being linked with endless amounts of names and you could say this latest rumour is just another made up one, however I really do believe this move could happen, maybe not for the figures being suggested though.

What do you think? Have City got any chance of signing one of the greatest strikers of all-time? Comments below please.
1 comments: