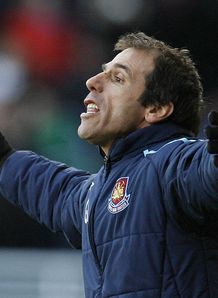 With just five games to go now in the Barclays Premier League, things are really beginning to get interesting.

Manchester United are just edging Liverpool at the top of the table whilst at the bottom, the likes of Newcastle and Middlesbrough are struggling to keep their status as a top flight club.

Also, the race for 7th place, and that final Europa League spot, is really hotting up with nearly half a dozen clubs still in the running.

At the moment, Gianfranco Zola's West Ham currently occupy that 7th spot, however they have a host of clubs lining up behind them ready to pounce on any mistake made by the Hammers between now and the end of May.

Fulham, Tottenham, Manchester City and Wigan are all still in with a shout of catching West Ham. With Zola's men still to play the likes of Liverpool, Chelsea and Everton before the season ends there is certainly hope for the chasing pack.

In truth, none of the sides involved have an easy run-in.

I am finding it really hard to pick a winner between the five involved. Tottenham are on a good run but they still have to travel to places like Goodison Park, Old Trafford and Anfield so that would probably lead me to rule them out of it. It's just not possible for Manchester City to do it if they keep their current away form going.

Fulham ...... err, no. Wigan ..... they might just be a bit too far back.

I certainly wouldn't be putting any money on it, but I'll say West Ham.

What do you think? Who will claim 7th spot? Comments below please.
0 comments: