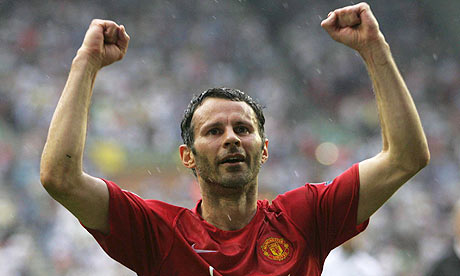 Manchester United's Ryan Giggs has made just 12 Premier League starts this season and yet he still manages to win the PFA Player of the Year award.

Like most fans of English football, I am a big admirer of the Welshman's. To still be playing for one of the biggest club's in the world at the age of 35 is simply outstanding, however I am sure many of you will agree with me when I say, he hasn't been the best player in the Premier League this season.

OK, I know I am being slightly harsh about the whole thing, however to give a player who has made just a dozen starts this season the award is a bit ridiculous. There is no doubt that Giggs has been one of the top performers of all-time in the Premier League, but has he been this season's best player. Certainly not.

The only two players who I felt would have been worthy winners of the award were Giggs' United team-mate Nemanja Vidic and Liverpool captain Steven Gerrard.

I can't argue that Giggs has, at times, performed unbelievably well this season. His display away to West Ham back in February was incredible. That particular performance reminded me of the Giggs of old. Delivering sublime crosses and terrorising full-back's with his age-defying bursts of pace.

But why Vidic or Gerrard didn't win the award, I really don't know. Both players have performed magnificently well all season long and I personally felt thought it was a two-horse race between the two of them.

Maybe, the players and managers who voted just thought it would be a nice gesture to Giggs, considering he hasn't won the award before and the fact that he will be retiring in just over a year's time.

What do you think? Did Giggs really deserve the award? If not, who did? Comments below please.
2 comments:
You really don't understand do you? The PFA player of the year isn't based soley on performance this season, but also of recognition of achievement this season. Just like World Player of the year isn't based merely on performancer but also has links to trophies won by that player. Cannavaro wouldn't have won any awards had he not lifted the World Cup.

Gigg's has made monumental achievements this year by surpassing Charlton's records as well as establishing himself as the most decorated footballer in english history. Last seasons PFA award was made before Ryan Giggs lifted the Premiership and European crowns, so this year's award is based on overall player recognition amongst his peers - not based on your fickle assesment of game by game performance.

Perhaps your'e being harsh? No, just plain ignorant as to what the award stands for.




your an idiot hu eva left that last comment...it is soley on the performances per season thats y its an annual award??? Canavaro wud hav got the award witou the wins??? He basically wun the world cup himself so get ur stuf right

Giggs didn deserve the award people jus felt sori cause he had never won it b4 nd he is close 2 retirement it is a joke... gerrard 100% he has benn far more consistent then vidic hu is also world class...