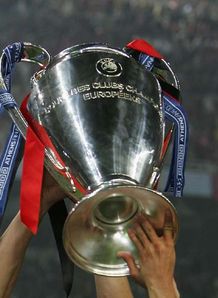 So we're down to the last four. In just over a month's time Barcelona, Manchester United, Chelsea or Arsenal will be crowned Champions of Europe in Rome's Olympic Stadium.

There is no doubt we're in for two mouth-watering semi-final clashes as Barcelona face Chelsea whilst current Champions Man United play Arsenal. Based on current European form alone you would have to fancy Barca going all the way.

Pep Guardiola's men have looked unplayable at times this season. Their quarter-final first leg against German giants Bayern Munich was outstanding. Barca completely outplayed their opponents, eventually running out 4-0 winners, however that figure could have been even more.

So who's going to stop Barca from going all the way? In my opinion no one, however Guus Hiddink may have a thing or two to say about that. There is no doubt Chelsea, who have been in fine form of late, have the players to compete with Barca over two legs. When Didier Drogba is on form, I honestly don't believe their is a better striker in Europe.

The one thing Chelsea have going for them is the fact that they are at home in the crucial second leg of the tie, which can play a major bearing on who actually progresses. Overall though, I think Barcelona will prove too good for Chelsea and will comfortably beat them 3-1 on aggeragate.

So who will join them in the final? I can't see Arsenal stopping Man United. Sir Alex Ferguson's men know they got lucky in the last round against Porto and I don't see them slipping up again.

What do you think? Who do you think will make it to the final and more importantly who will go on to lift the famous trophy?
0 comments: