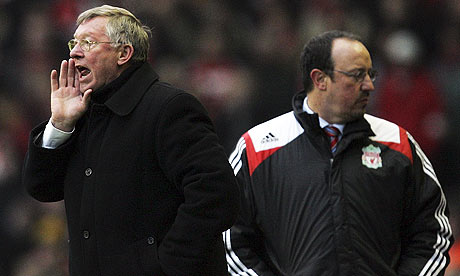 Ever since the beginning of January the pair have been arguing. Liverpool boss Rafa Benitez kicked it all off when he made his outburst about the FA's leniency towards Manchester United manager Sir Alex Ferguson when it comes to referees.

Since then, they have argued about a variety of different things including kick-off times following mid-week European games, United being "scared" of Liverpool and, of course, the title race.

In the build-up to United's FA Cup semi-final with Everton on Sunday, Ferguson has decided to target Benitez' lack of respect to Liverpool's Merseyside rivals and Blackburn. The Scot had this to say : "Everton are a big club, not a small one which Benitez arrogantly said ... Arrogance is one thing. You cannot forgive contempt, which is what he showed Sam Allardyce last weekend,"

"When Liverpool scored their second goal he signalled as if the game was finished. I do not think Sam deserved that ... Sam has worked so hard for the LMA (League Managers' Association) and he's had a weakened team. I just thought it showed contempt ... In my experience no Liverpool manager has ever done that. It was beyond the pale."

Interesting stuff from Ferguson. I must say I did not see what Benitez did last Saturday during the side's 4-0 win over Blackburn, however for Ferguson to say such things something must have happened. I do remember Benitez calling Everton a small club and at the time I thought it was quite disrespectful, however why it has taken Ferguson this long to say something about that is kind of strange.

What do you make of Ferguson's comments? Comments below please.
2 comments:
saw the gesture, it was towards alonso, benitez directed him to take it short, he didnt, went long to torres, who scored

im sure you will see it on the news.

sam and fergie will look like muppets when they watch again

last week, fergie said rafa was talking about him before a big game and now this, oh the irony

fergie has never been this wound up by a manager before, its great