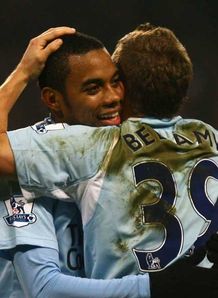 With one foot already in the quarter-finals after an impressive 2-0 home win over Danish side Aalborg, why can't Manchester City go on to lift the UEFA Cup this season?

They are now the bookies favourites for the competition (4/1 with Football Corner's good friend Paddy Power), yet I have heard very few people mention them as serious contenders for the trophy. Before the tournament started, all the talk was about the likes of AC Milan and Valencia who were considered shoe-ins to lift the trophy come May considering their previous Champions League experience.

Well, both of those sides are out now, and a side as good as Man City should be looking to take full advantage.

Many people have claimed that City haven't got a hope of winning it if they keep performing so badly away from Eastlands and I would tend to agree with that, however some of City's results in Europe have been tremendous this season. The 2-0 away win over Bundesliga side Schalke certainly stands out and I think if Mark Hughes' men can perform like that whenever they leave the country, they will have few problems.

If you look at it on paper, City definitely have a squad capable of winning the tournament. They have Shay Given in goal, who is undoubtedly one of the best keepers in Europe at the moment. The ever reliable pairing of Vincent Kompany and Stephen Ireland in the centre of midfield. And finally, a partnership up front which most Champions League sides would love in Craig Bellamy and Robinho.

So why can't City go all the way to Istanbul this year and win the UEFA Cup for the first time in the club's history? Comments below please.
0 comments: