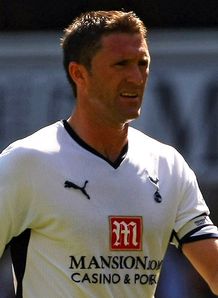 Robbie Keane is in line to become the first ever player to be relegated from the Premier League and win a Premier League medal in the same season. The Republic of Ireland international completed his return to White Hart Lane on transfer deadline day on Monday after Rafa Benitez agreed to sell him after a disastrous six months at Anfield.

Should Liverpool go on to win the league title, Keane, 28, would be eligible for a medal after making more than ten appearances for the Merseyside club, not that he is too concerned about that. "Winning the Premier League would mean nothing at all to me now ... My brother is a Liverpool fan, so I'd probably give it (the medal) to him."

With Spurs sitting just a point above the relegation zone there is no doubt they could still go down, leaving Keane in real danger of picking up the unfortunate record. In order news, Manchester United striker Carlos Tevez has had his £140,000 Bentley impounded after it was revealed he doesn't have a full UK driving licence.

Tevez, 25, was pulled over on Friday morning after Police suspected his windows were tinted too dark. Following further investigations it was confirmed that the Argentine international did not have a full UK driving licence and his Bentley was then seized. Unlucky Carlos. Maybe it's time you book your test.
5 comments: