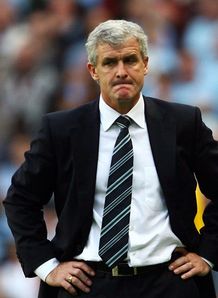 That's according to our readers anyway. Yes, after nearly a week of voting, you, the readers, have decided that Manchester City boss Mark Hughes will be the next Premier League manager to go. The former Blackburn manager only arrived at Eastlands last July, however things haven't gone according to plan and he has been under pressure for some time now.

Here is the full result of the poll :

Mark Hughes - 19 votes (55%)
Gareth Southgate - 11 votes (32%)
Joe Kinnear - 4 votes (11%)
Other - 1 vote (2%)

Total Votes : 35.

I would like to take this opportunity to thank everyone who voted in the poll and I would encourage all of you to vote in our latest poll which can be found in the far right sidebar of the site. The latest poll asks you : Who will Cristiano Ronaldo be playing for next season? Place your votes now.
0 comments: