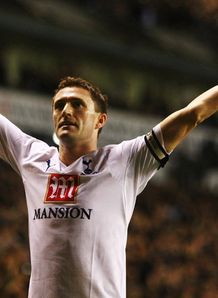 Tottenham have this evening made an enquiry to bring Liverpool striker Robbie Keane back to White Hart Lane. The Republic of Ireland international has fallen way down the pecking order at Anfield and Liverpool boss Rafa Benitez may be ready to cash in on Keane before the transfer window closes next Monday.

Harry Redknapp confirmed earlier this week that he would love to bring Keane back to North London after the player left last July. Keane, 28, signed for Liverpool for a fee of £20 million in the summer, however he has failed to impress during his time in Merseyside, scoring just 4 goals in the process.

Manchester City are also believed to be monitoring Keane's situation at Liverpool, however the player is understood to prefer a possible move to Spurs rather than Eastlands. Very interesting news indeed. It is clear for everyone to see that Keane is not wanted at Liverpool and I feel a move back to Spurs would be the right option for all parties involved. I would be surprised if Spurs have to pay anything more than £16 million to bring Keane back because lets be honest, he hasn't done much in the last six months or so.

Stay tuned to Football Corner for all the latest on this and much more in the coming days.