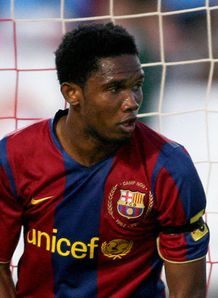 Manchester City have today set their sights on Barcelona striker Samuel Eto'o after all but completing the signing of Chelsea defender Wayne Bridge. It is understood that representatives from City are in talks with Eto'o's agent about a possible £60 million move to Eastlands. It is unlikely though that Barca will be willing to let one of their most prized assets leave during the January transfer window.

The 27-year old has become one of the best strikers in the world since joining Barca back in 2004. He has scored an impressive 112 goals in just over 150 appearances for the La Liga giants since leaving Real Mallorca.

The richest club in the world (Man City) have already been linked with a host of big name players, including the likes of Valencia's David Villa. City's owners are hoping to persuade Eto'o to join by offering him a staggering £15 million a year.

Although I would love to see Eto'o come to the Premier League in January, I just can't see it. He is currently playing in a Barca side that are in a great position to challenge for top honours on both the domestic and European front. Having said that, should City offer him the rumoured £15 million a year, how could he could turn it down. It will be interesting to see how this one pans out over the next few weeks. Stay tuned.
0 comments: