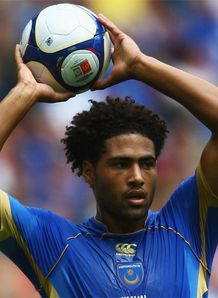 Liverpool are closing on the £9 million signing of Portsmouth right-back Glen Johnson after weeks of speculation over the player's future. The England international is looking to leave Fratton Park as soon as possible after growing increasingly frustrated at the amount of first team players being let go by the club.

Johnson, 24, has been one of the club's top performers this season and Liverpool boss Rafa Benitez has been impressed so much that he is willing to cough up £9 million for his signature. Pompey boss Tony Adams is unlikely to want to let go of one of his most prized assets, however he has always stated that he didn't want to keep players who didn't want to play for the club.

Personally, I think Johnson is just what Liverpool need. A talented right-back. Over the years, I have always thought Liverpool really could use a good solid right-back and now they may be about to get one. If Johnson is to sign in the coming weeks, I feel it will greatly improve Liverpool's chances of winning the Premier League title this season.
0 comments: