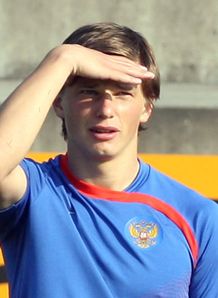 Arsenal are set to sign Zenit St Petersburg playmaker Andrei Arshavin in a £17 million deal in the next few days. The Russian international has been linked with a move to the Emirates for some time after it was reported that Arsenal had opened talks with Zenit about the possibility of bringing Arshavin to the Premier League.

The 27-year old has admitted in recent weeks that he would love to move to England during this transfer window and his agent Dannis Lachter has today confirmed that he expects his client will become an Arsenal player sometime this week.

Lachter had this to say : "The deal should go through this week ... Andrei wants to go, Arsenal want him and Zenit accept they have to sell ... It's just a matter of sorting out the sums but the indication is it'll happen soon, perhaps within days."

Arsenal boss Arsene Wenger is desperate to add to his squad this month and Arshavin is his number-one target. Personally, I think this is a cracking signing for the Gunners. I have always been a huge fan of Arshavin's and I feel he will prove value for money, should Arsenal get him for the reported £17 million. Be sure to stay tuned to Football Corner for all the latest developments on this and much more in the coming weeks.
0 comments: